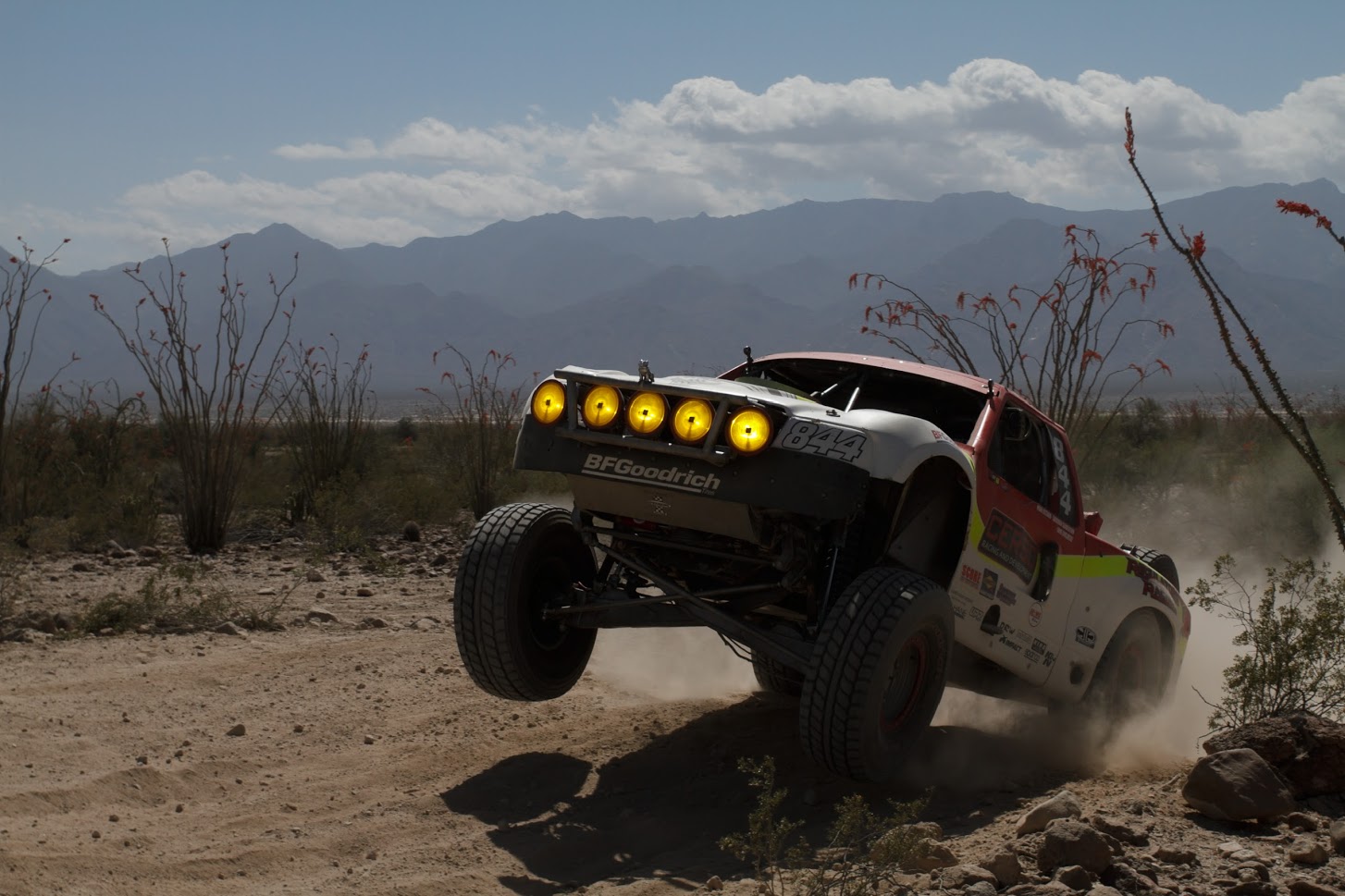 Hard fought 2nd Baja 500 place for Regulators
March 23, 2020
---
2017 BAJA 500 | Race day for us started with Steve Susral and I planning to run the truck to the bottom of Mike's road to BFG pit 2 at RM243. Saw Vic and a few other friends while staged in line prior to the start. We both continue to be blown away by how many golf carts are now entering the races and how they are literally evolving into 10 car chassis with golf cart drivelines. Saw a couple of our competitors before taking the flag, all was good to go. Finally took the green flag out of town around 11:20 or so. Was a smooth run out of town, and was definitely surprised with all of the new 37mph speed zones up in the hills past the new highway bypass road. You could definitely tell the fans were unamused by the lack of speed in those sections for the first time at this race. We passed several 12's and 10's and a couple SPEC TT's before hitting the road at the Pepsi stand. Got back in the dirt and immediately started chasing different 10 cars that would immediately jack rabbit, making it a bitch to see in the tight "twisties" up in the hills above Ojos. Finally got some clean air and we were clipping right along. Just after this we got into some more dust of a SPEC TT and nailed a rock course side hidden well by a bush. Ended up turning the center steering rod into a bit of a question mark and slowly it got worse and worse until we got to around RM60 and at the bottom of the rock hill there we pulled over at the ranch as I literally could barely turn the truck to its right.
Got out and quickly went to work on the bent rod. We carry spare tie rods, but not a spare center (this will be changing before the next race) Tried using a sledge to no avail, and then pounded the jack handle onto the end and got a large rusted old metal pipe from the farmer, wedged it into the bumper and with the help of the rancher all three of us were able to bend it back. Reinstalled and back on the road. Had a 17 minute lead on Sanchez as we saw him go by right before we got back running. Made it about a half a mile and it bent right back. Got lucky and Mama Baja gave us an access road out to the highway, one I had raced back in 2005. Crew met us on the highway and changed it all out in about 30 minutes. Even got to see Court and the kids as they and some friends were waiting at the highway crossing for us. The kids even did a "Go Regulators" cheer for Steve and I. Armed with renewed enthusiasm and parts, we peeled out and headed for the beach. Began picking off the cars that got by us and made it to BFG 1 around 4:30 or so. Took on 56 gallons and were back off and moving. Fairly uneventful run down to and through Colonet until we got just above San Quintin and then ran into the local made mud hole. Almost made it up, but then got buried. Luckily our crew was only 15 minutes away, brought Big Red in, hooked up the winch and we were mobile within a few minutes of their arrival. Got down about another two miles and then ran into where the locals diverted the course into what was by then a massive silt pit. Tried to get her up and out, but she dropped anchor and we were land locked. Again, our crew was down there to us in minutes and had us winched up and out quickly. Kritter was Johnny on the spot as well, but our guys had it covered and we took off.
Then made the run to Mike's and the course was torn to shit. Carnage at just about every turn or hill. Cut a front tire just about 10 miles from Mike's and had to replace. At this point it was get it to Dave mode and we made a collected, smooth run down to the highway. At this point we were about 3 hours down to Sanchez in second place we were running for a finish. Dave and Huge did the SF loop in just about 3.5 hours and stopped at BFG 3 where we were waiting for them to fuel them and check the truck over. Everything was running smoothly and we then chased them for the run home. About 2 miles before the Ojos Crossing, they too hit a big rack and wasted the steering swing arm. They pulled over right after the crossing, team went into mode and had the swinger replaced in 12 minutes. Was a solid fast stop and they were off. We were waiting for them at the finish, when we got the call everyone dreads that they were stopped and had rolled the truck. Turned out they ran into a large rain rut and put it on it's side, but in doing so, ripped apart the swinger that was just put in. Again, Mama Baja showed her graciousness and let us pass. The truck crossed the line just around 5:15 AM.
It was a long and hard fought day. The kind of race that builds team character and makes individuals that much stronger. Without the hard work, dedication and never, ever quit attitude of my team, we were able to salvage a podium second place finish, and remain in the points lead for the season championship.
I can't thank my guys enough and I cannot thank my brother Checkers enough who were spread out over 513 miles of the toughest that Baja has to offer.
Can't wait for the next one.
It's Better in Baja
-Noah Ostanik