---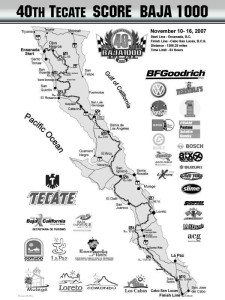 By Stuart Chase
2007 Baja 1000, 40th running.
Wednesday, 11-7
Wake up at 6 and off to Chris Wilson's with Megan to pick up his truck and prerunner for a test a Plaster city and find out if the motor issues have been fixed. Kras is playing cards at one of the Indian casinos and will meet us on the road. I was pulled over by a cop and he gave me a speeding ticket. This was a sign of things to come. Car gets unloaded and we hop in. After a few minutes it's obvious it's still not right. After some thought Kras thinks he knows the fix so it's off to El Centro to the auto parts store for parts. Swap some fuel line and back to Plaster City. Unload the car and blast off. It's still bad so we call Chris to tell him the news. He has me drop the car off at Complete Fab in El Cajon. Chris calls me later and says he thinks they got it fixed and were off to Mex so get ready. Chris, Diane, Linda and me in his crew cab. We stop off at a local dirt bike spot by the 905 freeway to give it a test. Still no good! So we go to Mex anyway with the thought we would try in the Morn and if we still can't fix it we would swing by San Felipe and pick up his bronco from his parents and prerun in that. We get to the Las Palmas at Midnight and I'm beat so right to bed.
Thursday, 11-8
Up early to open the fuel cell. We find a bad fuel line and dirt in the tank. Walk to the auto parts store for some new line. Once in place the car works great. Thank god!!!So at 11am were off to Loreto. Finally hit town at midnight. Long day number two.
Friday, 11-9
Meet Gary Johnson, Nicole, Jake and Todd Starks for breakfast before the prerun. Chris, Jake, Todd and I in the prerunner, we started in Loreto on the road to San Javier. Stopped to meet the trucks and get fuel in Insurgentes and back on the road. Some silt not far from the hwy but nothing the race car shouldn't plow right through. Easy and fast all the way. The fuel gauge was showing the car was almost empty but we didn't have to far to go so we crossed our fingers and kept moving. Meet up with the trucks a short time later and loaded up because it was getting dark. Drove into La Paz and got a room at the Plaza. At dinner Nicole was hell bent on getting everyone drunk and started in on Todd with Margaritas early. Todd gets a little shitty so Gary walks to the bar and gets him a 4 shot Marg. Goodnight Todd!!! He is stumbling all over the place. Back to the rooms and we find a six inch long Centipede above my bed. Todd grabs the thing and squeals like a girl and throws it on the ground. We didn't know where it went and tore the room apart looking for it because I didn't want that thing sleeping in bed with me. I found it hanging on to the side of Todd's bed and after kicking it around and trying to get it into a cup we ran over to Gary's room with it, Todd and I push the door open that Gary is trying to keep closed and throw it into the Johnson room. Todd and I run back slam our door and are laughing our asses off when we hear our window open and the Centipede goes flying through the living room onto the floor. We hear Gary Jake and Nick run back to their room giggling like school girls. We grab the pissed off Centipede again and run out the back door towards there room again. While trying to open there bathroom window I break the glass and try to wedge our buddy in. It didn't work and now Jake and Gary are on to us are tiring to solidify their defense. We give up. All of us laugh for a while and I go to bed. Todd wonders around the room for a while repeating "I'm so drunk", "I haven't been this drunk for years", "I'm ruined" and "I'm going to Ralph"!! He goes out the back door every once in a while and bangs on Gary's window only to return and say everything all over again. I fall asleep. Todd stays up and at around 4 am stumbles over the front desk to ask for water. But he is so drunk he can't say "water" and can only mumble. The girl at the desk gets worried and calls for security. Todd walks out of the hotel and goes to the prerunner and grabs some Gatorade out of it. I think he slept for a few hours.
Saturday 11-10
Everyone laughed at Todd during breakfast and we didn't get going till late for obvious reasons. Plus we had a long drive from La Paz to where we would jump back on the track. Unloaded the car and took off. Meet the girls in Gary's truck for more fuel and to swap Jake for Diane in the prerunner North of Santa Rita. Vic and Michele Bruckmann along with Adam Pfankuch pull up in Vic's four seater. So we run together. The car is starting to have some fuel pressure issues again but not so bad that we can't keep going. But, were hoping for no big hills or bad silt. We hit the Santa Rita silt beds and just barley makes it through without getting stuck.
Same with a small silt hill just a little down the road. I had to get out and take a look. Vic would get stuck on this hill later during the race but with Michelle yelling orders to the locals in Spanish they are pushed out quick. On to the Puente Conejos silt beds. Much longer and much deeper ruts. We give it a go and when the pan started dragging through the silt and the motor giving us problems again it didn't take long to get stuck. We call Vic back on the radio to help. He had been stuck the day before in the Loreto silt and brought a shovel and carpet for today which really helped. With all of us digging and pushing I think we were out in about an hour. While stuck we could hear prerunners using a line around the silt and we went off to find it. The line is a road that goes right by a Rancher's house and the ground was nice and hard. It was a lot farther than staying on the track but with no chance of getting stuck. Chris had the race course and every chase road in Baja in his GPS. That helped a lot. The course from San Javier to Todos was real fast. We thought maybe a 70- 80 MPH average. Continued on to Todos were the highway crosses the race course. We loaded up the car at the Pemex station. We couldn't find any rooms in town so we had to haul back to La Paz. Found a great potato taco place on the outskirts of town and had dinner. Everyone was in bed pretty early.
Sunday 11-11
Up early with the sun to work on the prerunner. Pulled the fuel pump, fuel filter and opened up the cell. Found junk (old fuel line) in the cell and pump. Drained as much fuel as we could out of the cell and Todd volunteered to stick his hand down and scoop out as mush shit as he could. He pulled out a lot. Handfuls! He smelled like gas for the rest of the day. Put some fresh gas in and back to Todos to finish the prerun. Todos to Cabo was tight and tech. Lots of fun. But, we couldn't get all the crap out of the cell that morning so we had to pull over every 20 miles or so and clean out the fuel pump. That sucked. Made it to the finish but had no time to relax and enjoy the weather. Had to head back north. Nicole was really bummed. We were torn between going to La Paz or all the way back to Loreto. Debated for a while and decided on Loreto with a quick stop by the Santa Rita silt beds to find a line around them. Stopped in Todos for a quick lunch and talked with Andy Grider about the John Harrah team that he is team manager for. They have somewhere around 10 race cars with more coming and 6 paid drivers. Nice!!! Where do I sign up??? Unloaded the car at an access road off the highway and drove into the course to check the silt. About three miles from where we wanted to be Chris lost the power steering. Shit!!! I got out to take a look. A bolt that holds the alternator on had broken and the alternator mount was broke. The alternator was off to the side and the belt had walked off. I thought we were done but Todd the master mechanic jumped in and Mickey Moused it enough to keep us moving. Or so we thought. (We were all very impressed with Todd at that point) Fired up the car and took off but the Alternator was not charging the battery. It probably broke something inside when the bolt and mount broke. (Todd and I took a run to try and find the silt and I thought the poor dude was going to pass out. He kept saying "don't ever let yourself get out of shape like this") Worried that we might be stuck out there for a long time we called Gary and told him to start towards us with the trailer and we would get as close as we could. Turns out we could have made it all the way or real close but we didn't want to take a chance. Meet the trucks and trailer and continued on to Loreto. We pull up to find the rooms that Todd and Gary had reserved at the Oasis were given away. We had beat Gary there so we waited for him to show. I knew he would be none too happy. When Gary showed up he came unglued! We thought the desk chick was going to call the Policia on us. We had to get him out of there and let him cool of a bit. She told us to wait a few and if no one else showed up we could have the rooms. We got them and went to bed around 1am. Another long day.
Monday 11-12
Todd came up with the Idea of retiring the Prerunner for this trip and renting a Jeep to look at the Loreto Silt. Chris and I Agreed. I was tired of that car. The Jeep was delivered to the hotel and we took off. At first Todd pussy footed the Jeep down the course at 10 miles an hour. Every pebble on the ground was slamming the skid plates on it. It sucked. Then after some time he said fuck it and started to drive it like he stole it. We fired up the mariachi music and yelled like Banditos every time we passed a pit or car on the road. This was far more fun. We were getting close to the bad silt when we found some bike guys that had the area pretty well dialed in. Talked to them for a while and they took us to a very cool hidden way around. These guys were Baja vets and were concerned that if a sportsman bike got stuck in the silt he could very easily be killed by a TT or Class 1 plowing threw it. The silt was over there gas tanks in the bad spots. Chris jumped on the Sat and called Paul Fish. We had a way around, the Ranch owner who's land we wanted to use was with us and was giving us the a ok, so we got the go ahead to re mark the course around the nasty shit. We spent an hour or two pulling markers and ribbon and putting up new markers and ribbon. We were done. We never got to prerun La Purisima to the silt or the silt to Loreto but we were running out of time and could never get it done in the Jeep so we went to the hotel. It was real nice to finally get some time to chill out. Everyone was pretty worn out. We had dinner at the El Nido and called it a day.
Tuesday 11-13
Race day!!!!I woke up, ate and tried to do as little as possible to try and conserve energy for that night. Chris took his truck to try and GPS some ways around the other silt that was still left in case it got worse. We watched the race from the computer at the hotel bar. Todd's Protruck went all of ten miles before the owner yard sailed the thing on a boobie trap that ended their race. We all felt pretty bad for Todd. He took it pretty good. I would have been super bummed!! Stu on the other hand was kicking ass. Putting time on the cars we had to beat (Gasper, Myers, and Wilson's) and running up front in the pack. We watched for a while till they made the turn to head up to Mikes. We had to take off to La Purisima. It was 2 and we had a three hour drive. We hoped to get in the car around 2 or 3 am and finish around noon. The drive was boring with nothing happening. Once there we found a spot where we could hang for the night. Gary had bought a new generator to run all the lights for the pit and pulled it out. But, it wouldn't start so Gary, Todd, Jake and about ten Mexicans hassled with it for a few hours before they gave up. I pulled out a coot that Gary brought and tried to get some sleep. That was almost impossible with all the people running around and shit going on. First bike through was 1x hauling ass around the corner in front of us. Tried to sleep some more. Talked to Stu on the Sat to keep track of where Jimmy was and we figured him to us at around 6:30. The pace of the race was running slower than we thought it would. Got up at 4:30 to eat and get myself ready to go. At 6 am Checker pit Scorpion bay called and said "'124 through and looking good" Only a half hour till he would be to us. The lead 1 cars had been through a while earlier but we were still in the top ten on the road. We needed them to have some problems for Chris and I to catch them. Billy Gasper and Dale Lenk passed by right before Jimmy came into the pit, so we would have a few cars to race. Chris and I got in and within a few minutes we were on the highway headed to La Purisima. We passed Gasper while they were doing a drivers change and soon hit the dirt. The car felt good and we settled into a good fast pace. I could see that we were catching Lenk pretty quickly and were soon on his ass. Then I fucked up. Pushing too hard in the dust, in a section I hadn't seen since last year I wanted to get around Lenk and put a car between me and Gasper. All of a sudden we were in heavy dust and right as Chris said "be careful it gets tight in here" I blew a turn and plowed through a rather big tree and landed on some rocks. The car was stuck and I thought I just killed the race for everyone. Chris got out and looked for a way out and I got out and pulled the rocks out from in front of the tires. I jumped back in and tried to find a line out. We were in some big rocks and it felt like I was on a Jeepers jamboree not a Baja off road race. First went a little to the right and that didn't work so I then went straight and stood on the gas and the car slammed and bounced over the rocks back onto the road. THANK GOD!!! Chris would later say there was some big time smoke from the tires spinning on the rocks. All together I bet we lost about 8 minutes. So we were back at it. Not long after out of nowhere the car fell on its nose and felt like it was losing power. We pulled into a Baja pits and I jumped out to take a look. We zipped a plug wire that was too close to the header and added 2 quarts of motor oil but everything else looked ok. So off we went again but the car was no better We made the right turn to head to Loreto but pulled over again to take another look and call Stu on the Sat. Gasper went bye and waived as we were on the side of the road and all I could think about was our title hopes slipping away. We drove the car (slowly) out an access to the highway where we would wait for Stu, TT, Kevin and Marion in the Dully. After A LOT of poking around and conversations with Turnkey on the phone we couldn't find the problem. So we started to drive it back to Loreto to really dig into it. But, the car was a little better so we turned around again and jumped back on the track. Maybe a mile later it took a shit again. Only this time far worse and we could hardly get off to the side of the road. We parked and waited awhile and then drove out to the highway and the truck again. The car would make a high pitch horn like noise under a load and that really had us all puzzled. We towed the car with a strap 30 miles back into town to wait for parts that Dan, Jan, Anna and Hayden were picking up in Constitucion. I bad to ride the brakes some to keep the car from running over the strap on the way back. This would come back to hurt us later. In town everyone jumps in to try and find the fix. During this Kevin burnt his leg on the rear hub and looked at me and said "Damn that's bot". I thought that was odd but didn't think much more of it. We were there for a while. I tried to lie down and get some rest knowing it was now going to be a long night. After a few failed attempts for a fix TT, Dan and Kevin have the car running and looking for any clue when Kevin sees that the air intake hose is collapsing when the motor revs up. They all yell and say "that has to be it". A quick look behind the driver's seat finds a jacket that was put in the car at the last driver's change was blocking the air inlet. FK!!!!!!!!!!!!!! But at the same time YES!!! (Huge props to TT, Dan and Kev who really never gave up at all. Even when a lot of us, me included were starting to think that we were not going to figure this out. They saved the whole race!) Chris and I belted in and after a quick sticky throttle fix were on the way. Driving on the highway we started to hear a strange vibration. Sounds like a bad CV. Were now out of the car again (felt like a 100 times this race) and calling the dully again for help. We park the car on a concrete slab that turns out to be truck scale for truckers leaving a Mex pumpkin farm. So what the?? We weigh the car and find out she is 4600 pounds ready to race. The dully shows a while later and after a few lack of sleep thoughts and conversations we repack the CV's and get ready again. Turns out that when we were being towed back in we cooked the brakes and melted all the CV grease. A lesson we will not forget. Finally going again! We pulled off the course at about 7:30am and were racing again at 5pm. Loreto to San Javier was mellow. We were so far back that we were in finish mode and to go real fast meant we would catch slower cars and fight there dust the whole time and risk making a mistake and not making it to the finish. San Javier to Insurgentes sucked!!!!It was so dusty and we were behind the slowest 1600 car ever!! And the brakes were crap from the tow job that even when we had clean air we couldn't take advantage of it. Stopped at the Baja pits in Insurgentes for fuel. Jimmy, Kevin #2, Diane Wilson and Linda are there waiting for us. Quick stop and were gone. The silt past the highway was now pretty bad and race cars were stuck everywhere in it. We picked our lines and went by everyone without any problems. We now had little to no brakes but got into some real fun big sand woops. I love that stuff and so does this car. It would have been better with brakes but we still kept a pretty good pace. We had to ease up a bit a few times for Chris to tighten his belts and his D cell. I don't miss riding in these big fast cars. It's tough. We had let the Stu know that the brakes were shot so when we meet the team in Santa Rita for fuel they were going to change out the rear pads for us and also add some fluid. I jumped out for a second while Marion got me some water and as many energy bars as I could eat. I was starting to feel pretty shitty and tired. Got back in while they were tightening a lose tie rod bolt and the rack. Took off and we had brakes again. Nice!! Since we were not able to find an alternate around the Santa Rita silt beds I was worried that we might roll into a ton of traffic that was stuck. We drove in, picked our line and stood on the gas! The ruts were deep and the car never tried to pop out. We could see cars and people stuck everywhere. There were a few tense movements when the silt was coming over the hood so bad we couldn't see but I couldn't get off the gas. The car motored right through it. A quick happy yell and we on our way. Next were the Puente Canjo silt beds where we had gotten stuck before during the prerun. As we got close it looked like a scene from a movie. Race cars stopped everywhere lined up one after another, drivers on their Sat phones, co riders were running down trying to find a way through and 4×4 chase trucks were waiting to pull people out. We stopped to collect our thoughts when some Mexican dude runs up and pulls Chris's window net down. WTF?? He says the silt is bad (tell us something we don't know) and begins to try and show us a way around on the GPS, but his line was right through the middle of the shit. We blow him off, say thanks and take off. Coming down into the valley the road is pretty soft and tore up. Just three days ago it was solid as rock. I tried to imagine how bad it was in worst spots. We pull up to where the course turns right and drops into the silt. Six Mexicans are standing there pointing us right into the middle of it. We blow right past them onto our Super bad ass silt bypass line and cruise on threw. The roads drops us off right past the silt and were gone with no issues at all. Prerunning kicks ass! A few more cars stuck here and there but no biggie for the Penhall. Stopped at Joe Cota's Checker pit for a hit of fuel and a quick look over. All good and rolling again. Then all of a sudden we had caught another class 1 car and were chasing him down. I think it gave both Chris and I a little kick in the ass. Just as we were closing in….. bang! The coil carrier shoots through the hood of the car. "You have to be kidding me" I think to myself. We pull over; sit for a second and … out of the car again. Tool bags come out and we get to work. The plan is to take the coil carrier and bypass off and bolt the coil carrier in the good bypass mounts. We called Stu to let him know the plan and to meet us at Kras's pit in Todos with the welder. Chris and I are getting pretty tired at this point so we work slowly and I stop to double check my work often. We have to jack the car up so high that it wanted to fall off the jack. So we got the spare off and dragged a tree over to place under the car to get a better angle to jack from. We get everything bolted down. Chris gets in and I load him down with tool bags, body panels and the bypass.
50 miles to get to Kras, my Dad and the welder. It takes FOREVER!!!! We didn't want to hurt the car more and DNF. Chris and I were going to push the car across the finish line at this point if we had to. The front limiting strap was too long and every time the arm dropped I could hear it pulling the coil carrier apart. Not fun. Chris decided that he was going to try and take a nap. Every now and then I could hear him snoring in the intercom. I would look over and see his head being held up by his D cell and the intercom line. I was jealous. We finally get to the Checker pit at Todos. The coil carrier looks like it's lived it's last day. All bent up. I give everyone the quick low down on the car and I walked to the trailer to lie down and take a nap while they went to work. Chris wakes me up and it's light out. He said to get ready the car is almost good to go. Jimmy helps me get my helmet and D cell on and get in the car. I think I was still half asleep because I don't really remember anything anyone said to me. Next thing I knew we were blasting down the road with 77 miles to go!!!!!We took it easy for the most part. Past a few trucks and bikes here and there. The car was working really well. As we got closer to the finish I started pushing a little harder. Once we got into the wash in Cabo we were at full flat out class 1 race speed. Maybe the hardest we had run during our whole shift. I knew the car was going to make it and there was no way I was going to disrespect her by not crossing the finish line flat out. We made it! Almost 1300 miles!! Gary and Jake were there to greet us. I asked Gary to call Brain and let him know we finished. I knew he wanted to be there. Stu, Marion, Kevin, Dan. Jan. Anna, TT, Hayden, Jimmy, Kevin #2, Diane and Linda were all there pretty quick. We all had a few beers, laughed, celebrated and recapped the last few days. It was 7:30am on Thursday. We Started at 11:20am on Tuesday. It was a long race. We finished 13th which was not what we had hoped for going in but given all that had happened it was a tremendous effort!!!! The front shock mounts that had been repaired at Todos and the coil carrier looked like it would not have gone another mile. Totally F…ed. We were also missing the tie rod bolt that held onto the rack.
Thursday 11-15
Drove the car to the hotel and unloaded. After getting rooms situated and waiting for a bit I got to take a shower. Walked down to the Office for breakfast. I was so tired I don't remember who was there or what if anything that happened. Went to the room and fell asleep. Woke up for dinner with the whole team at the hotel restaurant. Good food and everyone was in a festive mood. Everyone told stories about the race and had a few drinks. Good times.
Friday 11-16
Helped load shit up and had breakfast at the office. Saw Brian's friends Steve and Taylor who were on a cruise ship hanging out. Got ready to head home. Jake, Kevin and I in Gary's truck and Dan, Anna, and Hayden in Jan's ride. Everyone else was going to hang in Cabo for a bit longer. The drive was ho hum. Had dinner at El Nido's in Loreto were we meet a bike team from Missouri that entered the 1000 after watching "Dust to glory". Wow!! They got to Scorpion bay before they DNFed.
Pulled into Mulege to try and find a room. That is one confusing town. None of the hotels looked safe so we stopped at the store for beer and Tequila before we went back to the Serenidad south of town. Some large (fat) local was outside the store yelling "fking Gringos" the whole time we were there so we tried to hurry and not draw a crowd. Got our rooms and built a fire (not as easy as it seems) outside the door and had a good time.
Saturday 11-17
Up and driving again. Saw Vic and Michele Bruckmann at the Pemex outside of Guerrero Negro. Got the whole story on their class 12 win and 6th overall race. The second place car was within 30 seconds of them all the way till race mile 1200. What a race!!!We decide to go through Coco's corner and up through SF. Would have been a good idea but Gary had the SHITIEST (Kuhmo don't ever get them) tires ever on his truck. We get to Coco's and get out to walk around when we see Gary's driver side front tire going flat. We pull it off and put two plugs in the tire. It was a big hole. (Thank god for Jan because he had two plug kits and a little air
Compressor) we messed around and I bet it took us an hour. We went maybe a few miles before the passenger side rear tire took a shit. Put a plug in that tire. Off again (reoccurring theme this week). We went a few miles more before the driver's side rear did the same. But the side wall on that one was a little fucked so we put it in Jan's truck and had him go ahead and try to find a tire shop to get a new tire because it was getting late. We put the spare on and kept moving. At this point everyone could only laugh and was laughing pretty hard except Gary who wanted to kill the President of Kuhmo tires and the guys at his local tire shop who told him these were great tires. I thought it was REALLY funny but probably only because it wasn't my truck. Pulled up to the tire shop in Gonzaga bay, had a few beers to cloud our minds and decided the best choice was to go to Alfonsinas (spelling??) for the night and have some dinner and get real drunk! This is exactly what we did, about 80 beers, two bottles of tequila and the best dinner ever. I bought Gary a pack of underwear (goes back to earlier in the week) at the store and they ended up on, 1) Gary's bead, 2) over one of Mark Post's chase guys shorts, 3) on Kevin's chest like a bra and later on some white dog's ass that I kept seeing running all over the hotel. Plus we tagged some of Post's guys and every car and window I could find with Chase racing stickers (along with every gas station, road sign and taco shop that we could hit in Baja). Everyone was super drunk. The good thing was Jan got the whole night on video when he set up a camera and tri pod by the dinner table. Should be real good. Then the whole team except me went swimming in the bay for a while. Gary's soon to be step son "homo Jake" was walking around the hotel in his underpants into everyone's room with his junk hanging out trying to find some soap. It was a real fun night that I think everyone needed after a pretty stressful week.
Sunday 11-18
Almost home. We left early and I was pretty shocked when everyone reported that they weren't that hang over. We had no more flats all the way and a very pretty drive. We couldn't believe it!!! Stopped in San Felipe for breakfast and then bye TT's house to say hi to Lori and give her a quick race recap. Up to Mexicali and west on the new toll road towards Tecate to try and avoid a big border wait. Then more tire trouble. The passenger side rear was losing air again. We pulled over two or three times to put air in it and even stopped to get a can of "fix a flat" but it still was leaking. Put air in it one more time in the border crossing line and we got across. It had been a long trip and everyone was happy to be back in the USA. Plugged the tire one last time at an ARCO station and the two trucks said goodbye to each other as Gary's had to go into SD to drop me off and Jan's was going straight to LA. It was just getting dark.
What a great experience!! I keep hearing how people are not going to go back to Baja because of all the "dangers" but I can't think of any other place that I would rather be with all my friends.