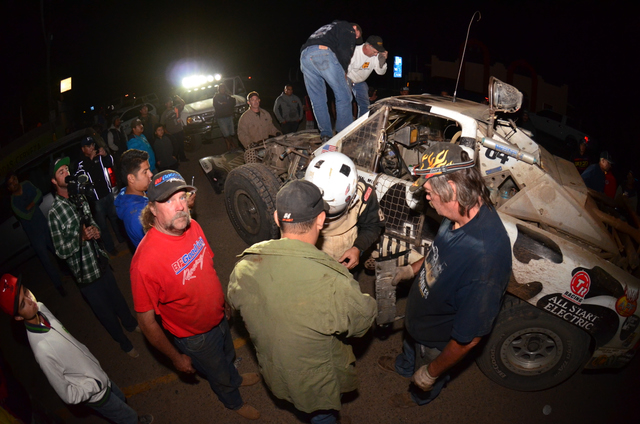 http://www.getsomephoto.com/
Water cooled transmission
October 15, 2015
---
Back-story: Nick lost a transmission cooler (that was integral with some other cooler). It was so dam far up inside the truck, I could not see it. Shawn and I were chasing for Nick, starting at the beach section where Jesse Jones flew off the cliff. Earlier in the day, I drove over to the cliff to show Shawn. We actually were on top of the hill before you go down to the cliff's. Nick called on the radio they were having cooler problems. We took off this huge 4 ft square skid plate, looped of the tranny lines and poured water on the tranny. It sizzled. So I came up with the thought: "Too bad we can't water-cool it, until we get further down course to find a universal cooler. So Nick said, "how could we do that ?" I thought for 20 seconds…."The radiator overflow hose !" We got a zip tie cutter, and removed it. We made a funnel out of a water bottle. Loaded the co-dog up with the case of water and off they went.
   We met up with them at Santo Tomos, There was already anther Team chase trucks there. They changed the boiling tranny fluid into a 5 gallon bucket, and the bucket began to melt. The spilled fluid on the asphalt melted though, right down to the soil. They looked for a cooler, as one seen in this photo, but would not work.  Also in the photo background you can see Shawn's Pre-runner Ford with the light bar overhead with 5 HID's lighting up the scene. And yes, it's the Ford that everyone loves to make fun of the 7 lug wheel pattern.
  I believe Nick made it to the Finish-line, cooling the transmission with water.