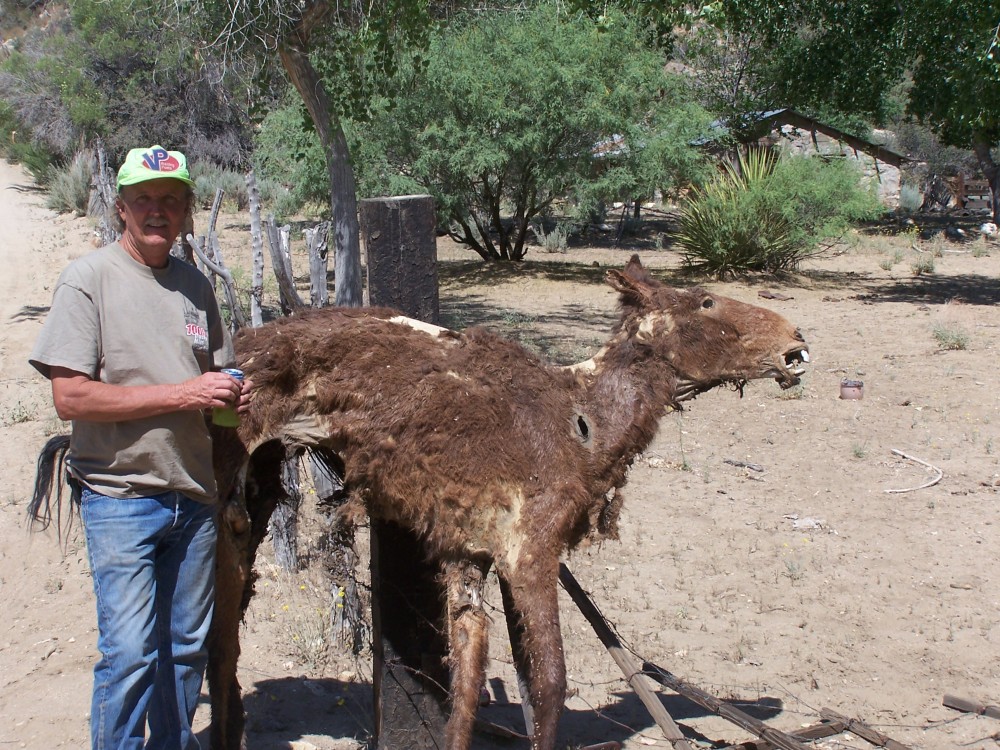 Pit support Baja 500 2006
---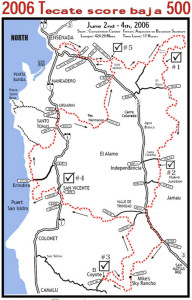 The 2006 Baja 500, Chase-X pit team summary of activities and adventure.
Pit support for off-road race cars at the Baja 500 can be very boring one moment and very exciting the next. Waiting for hours, monitoring the radios for information, watching your racecar roar past, then hurriedly relocating to a different location and then waiting again. Then, suddenly, the excitement! A flat tire! A broken jack! Cars zooming by a few feet away! The sound of air tools! Flat tire off, spare tire on! Check for traffic! Back on the Road! What a rush!
The rush was somewhat diminished by the fact the flat tire was on one of our support vehicles; on the side of the freeway; on the way home! It was further lessened because the vehicle with the flat was towing another support vehicle that had broken down south of Mexicali.
It all started innocently enough, the Chase-X team went to Northern Baja California over June 2-4, 2006 to provide outlying pit support for three off-road race vehicles; #62, the Trophy Truck driven by Mike Voyles, an unlimited truck, unlimited suspension, unlimited engine, unlimited budget; #1049, a Class 10 car operated by Porter Race Cars, driven by the Gasper brothers, Dave and Bill and co-piloted by my son, Eric Stewart, unlimited suspension, limited to 2000 cc engine and unlimited budget; and finally #1223, a Class 12 car driven by Mike Halliday, a limited car, limited to Volkswagen style suspension, 1800 cc engine.
We were to pit up near Mike's Sky Rancho at race mile 185, then cross the desert about 5-miles and pit again at race mile 230. Our pit duties included carrying spare tires, tools and small parts and fluids. Driver changes and fueling would occur at Valle Trinidad, race mile 250.
Rob Otte, Ron Albright and I were to go to Ensenada on Friday morning, the early group; where we would meet up with the Voyles team and make sure that we had the right radio frequencies and details. We left Loma Linda at 6:45 AM and headed for the border. On the way, we made up our grocery list for the weekend and stopped in San Diego to purchase supplies. (Note to self: Get more ICE). We headed south from Tijuana on the scenic toll road. We had some left over pesos from previous trips and intended to use these to pay the tolls. The first toll was okay, but at the second toll booth the attendant laughed at us- these coins had long since been devalued. Instead of giving the man $2.35, we were trying to get by with two and a half cents.
Unlike previous trips, we easily found the Voyles team and discussed race strategy. This was Ron's second ever off-road race, and the first that he had ever helped pit. While examining the shiny new trophy truck he noticed that one of the belts appeared a bit fuzzy. He finally decided to bring it to the attention of one of the car's team members, who, upon looking at it determined that, indeed, that was not good, and the belt was rubbing on an adjacent pulley. Good catch, Ron.
We then made our way to the festivities of tech inspection and contingency. It was a combination fiesta, zoo, and cattle drive. Thousands of people, hundreds of race cars, anddozens of vendors were blocking the street. Teams were pushing race cars, admiring workmanship, purchasing souvenirs, the crowd generally jostled one another while children requested 'steeekers'. We worked our way through, finally to the requisite fish taco stand and ate an excellent lunch while enjoying the sites. And, although 'Tecate girls' were disappointed, it was time for us to get out of town and into the desert. Poor, hard working Tecate girls, passing out tee shirts.
After topping off the gas, we headed up into the mountains east of Ensenada. Fortunately, just before Valle Trinidad, we remembered that we hadn't bought charcoal, so we were able to pull into a small store and purchase some. They also hade hielo (ice), but we were doing okay, so we refrained from getting more (Note to self: Always get more ICE).
We found the turn off to Mike's Sky Rancho and headed up the dirt road deep into the mountains. Twenty miles in we found an acceptable site and marked it, then continued on to look for a better site further up the course. We also wanted to drive up to Mike's to get the requisite beer. Twenty-three miles in, Ron spotted a 'flat-cow' in an abandoned rancho, so we stopped to examine it. It turned out to be a horse and it was rather 'non-flat' so we left it alone.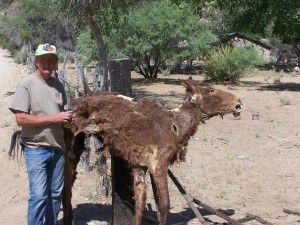 "Flat-cow's"(and in this case, horses) have a long (and glorious) tradition with our Baja team, and whenever one is spotted, we stop and, with appropriate ceremonies and photos, prop it up somehow. The first one was discovered by Scott Gordon and "The Maestro" (my late brother, Gordon) many years ago, and since then, the discovery of a flat-cow has always been reason for celebration and toasts to "The Maestro".
We then found an excellent pit site at twenty-five miles in with a connecting road to race mile 230. We marked a second spot and headed up to Mike's. It was a rough drive, steep, rutted hills and climbs over boulders. No four-wheel drive needed, but some careful driving was required. On the way, we discovered another flat-cow! This trip was very successful, another reason for toasts. Unfortunately, this poor fellow had completely lost his form and we were unable to stand him up.
Mike's Sky Rancho was like an oasis. We had to cross a stream, which was surrounded by campers waiting for the race the following day. The place itself had motel rooms, a large swimming pool, a bar and dining room for registered guests. The bar and its surrounds were festooned with old business cards, race stickers, posters and old autographed race t-shirts. Quite a place, a nice destination. We had a couple drinks and headed back to our pit.
Since Rob was recovering from the flu, he opted to stay at the pit site with Ron to get dinner preparations started. I went back to Pit 1 to remove our markings. On the way, I just couldn't resist the 'flat-horse', so I stopped and determined that it was okay to move, so I propped it up on the gate post to entertain the passers by. Naturally, with the required ceremonial toasts and fanfare.
I cleaned up Pit 1 and returned to camp at Pit 2 for dinner. Steak (unfortunately without Rob's special rub, which had escaped the cook box and was now probably rolling around somewhere in the truck, only to be discovered when we returned home), baked potatoes, corn-on-the-cob and sautéed mushrooms. Life is good! Life in Baja is better!
Rob declared that it was not going to rain, and since we didn't expect the rest of the crew until 2:00 AM, we went to bed. Sleep was difficult due to the anticipation of the day ahead, and the glare of the half-moon above, but the moon finally set and the glow of the Milky Way spread a soft light around the camp.
The late group clanked in at 3:30 A.M., with my brother, Bob, his son, Ryan, friends Chris and Randy in Bob's suburban; Scott Gordon and his children, Chelsea and Connor in Scott's F-250 and Bob's other son, Kaden in his 'pre-runner Ranger'. The Ranger front suspension had broken about 3 miles before camp and was temporarily repaired with two pry-bars and some awning straps.
Every one settled in in expectation of a busy day in the morning.
When you camp out in the open in Baja, you don't need an alarm clock. The sudden bright sunlight and rapidly increasing temperature will get even the most sluggish sleeper moving. Our camp was up and moving at 6 A.M. Throughout the day, the weather was warm, perfect for shorts and t-shirts.
On race morning, the bikes started at 6 A.M.from Ensenada, so we brought the Weatherman up on the radio in order to hear the day's events. He reported the normal morning carnage. Biker with broken leg, spectator with a heart attack, spectator hit, spectator car crash, the usual chaos. We reported a wrong way driver heading down the course, which we could not divert from the race course, even though there was a way around.
We were 185 miles into the race. With the bikes doing a 50 mile-per-hour average, we had plenty of time for a good breakfast and pit preparation. This would also be a good time for Kaden to locate a welder to fix his truck. The four-wheeled vehicles would start a minimum of 2-hours after the last bike left the start line. Mike Voyles was to be the first four-wheeled vehicle off the start line, and that meant we wouldn't see him until after lunch. With all that time, we broke out the horse shoes, played cards, Bob kills time. jerry-rigged an awning and waited. This would also be a good time for Kaden to locate a welder to fix his truck.
Our camp was at 4200-foot elevation, surrounded by manzanita and large granite boulder outcroppings and scrub pine. We were parked in a large flat meadow, with hills all around. As we explored, we discovered a flat-toad, but upon propping him up on a tiny stick, he didn't make much of a presentation. In spite of that, the obligatory toasts were called for!
Our Pit No. 1 at Race Mile 185
The Honda teams roared through at 11 A.M., surprisingly the Honda B team was in front. After the two lead bikes came through there was a one-half hour gap before the next motorcycle. Then we had a continuous parade of motorcycles and quads.
The trucks were next, trophy trucks, class 1, class 10, pro-truck, class 12, then the rest. When Weatherman began giving the list of vehicles past check 1, #62 was on the list. Soon, to our relief, we heard #1049 cleared and later #1223. We heard of a massive jam-up at mile 90 which held up over a hundred cars, fortunately none of our cars was tied up, except maybe Mike Voyles. Weatherman continued to report, now at Checkpoint Two, he listed the vehicles passing "Trophy Trucks 27, 86, 83, 4, 28, 12, 1, 88, 30, 38, 97, 2, 3, and a very scared 608X (motorcycle)", still no word on Mike Voyles.
While we waited, a slight breeze came up, first from the west, then the south, then the north, then the east, then from the west again, it was hard to keep out of the blowing dust. At one point a 'dust-devil' came down the race course causing a great cloud of dust to rise into the sky, 50 or 60 feet. As it passed our pit, it picked up our pit sign, a 30"X 30" aluminum sign panel and sent it flying. Up and down, the sign was swooping around in the air about 40-feet above us with everyone in ours and the nearby pits attempting to avoid being struck when it came down. The method of avoidance was by following the old adage: "When in danger, when in doubt, run in circles, scream and shout".
The first 10 car (#1008) sped past us at 2:48, which by our radar gun it was traveling 45 miles per hour, and 4-minutes later the Porter #1049 zoomed past at 48 mph. Looking good. Scott took off for our pit at race mile 230 with the Porter car tires, and we waited for #1223 and Voyles. Scott later reported that in attempting to set up the cardboard pit signs, the stapler would not attach cardboard to wooden stakes, and then when he tested the device, he stapled two fingers together. I wonder if beer's law was involved? I suspect we'll have additional training in the future. Eric's car races past Pit No. 1 at mile 185.
Car #1223 drove past without incident, and since it was getting to be dusk, we decided that Mike Voyles must be out of the race. If Mike got into the mountains, he would be able to call for help on the radio, so we left race mile 185 and went to race mile 230.
Some of the other pitters that had been at race mile 185 were over there also, and during casual discussion, we found out that they had a welder all of the time. Kaden's Ranger was brought over for repairs in the slowly fading light.
This team's race car was broken down 8 miles back on the course; Bob's suburban tried to retrieve it, but since it is 2-wheel drive, could not pull a Baja Bug that was missing a wheel and axle up the steep hills.
About 1-mile up course was the trophy truck of Chet Huffman, driven by Rod Millen's son. Ryan spent considerable time helping get them back on the road.
At 5:09, #1049 finally went past, but now he was 14-minutes behind the leader. #1223 raced by at 6:06 but we had lost track of how many 12-cars were in front of him. By now, it was nearly dark. Scott, Alberto (from the other team) and I tried working our way backwards on the course, to rescue the broken Baja Bug, but at dusk, with all of the dust, and some cars running with out lights we only made it only 1 ½ miles before we turned around. It was just too unsafe. There were very few pull-off locations and we seemed to be running blind, even with me walking 200 feet in front of the truck, looking and listening for oncoming race vehicles. Scott volunteered to retrieve it in the morning when it was safer.
Since we couldn't leave the mountains on the race course due to race traffic, we went back to our previous camp for the night. Checkpoint closed at 8 P.M. with out Voyles passing through, so we were done for the day. Dinner was fresh fajita burritos, cool beer (Note to self: Always get more ICE) and a comfortable campfire. Life is good! Life in Baja is better!
A small, scrawny, but very friendly, local dog adopted our camp and stayed with us all evening. The fajita scraps may have had something to do with it. But she stayed over night, scaring away intruders, both real and imagined.
Chelsea with "Pedra"
Breakfast was served in the morning, wherein our new found friend had a feast. Scott went back to Mile 230 to help tow out the stranded race-car but the team was gone. We then packed up our gear and got on the road. We stopped at the 'flat-horse' for photos and toasts to "The Maestro" and explored the rancho. We were running late and decided not to go into San Felipe.
At the Federale Check-point at Tres Posas we were thoroughly inspected and Rob was stung by a bee. We turned north on Highway 5 and headed for our first-ever geo-cache. Baja Geode Geo-cache. We had a fun time finding it, left some Chase-X stickers and found some geodes. The temperature on the Gulf side was considerably warmer than that of the mountains. It was 115 degrees, and here we were hiking up and down some rocky hills. That's okay, warm drinks to the rescue (Note to self: Always get more ICE).
Mike, Scott, Chelsea and Connor find the Geo-cache
Back on the road. 30 kilometers south of Mexicali, Kaden reported that his truck was dead. We spent 1/2 -hour trying to discern the problem. Either the fuel pump or electronic module had had enough of this heat. We decided to tow it across the border. Using a short strap, Bob towed, I lead and called out traffic signals and stop signs, Scott protected the rear. Slowly we proceeded to the border.
We crossed the border in 5-minutes. To prevent confusion, I explained to the border agent that the truck following me was towing another. No problem. We gassed up and decided to tow the Ranger back home, only 200 miles. Through the back farm roads of the Imperial Valley, to Highway 111 on the north shore of the Salton Sea, we made pretty good time. It was 120 degrees. But hot sodas hit the spot? (Note to self: Always get more ICE) When we hit Desert Hot Springs we had to get on the freeway. Since it is illegal to tow Finally, some pit action. Kaden, Bob, Rob and a vehicle on the freeway with a strap, except Chelsea change the Sub tire to get to the next off-ramp, suffice it to say we got to the next off-ramp without incident except for the aforementioned flat tire on Bob's Suburban.
As it turned out, Mike Voyles blew up his transmission at about mile 30 (sorry, Mike), Porter (#1049) took 4th in Class 10 and 18th 4-wheel vehicle overall and Mike Halliday took 7th in class. Another successful Baja adventure was completed. Uh-oh, I better get to work, the Baja 1000 is only 163 days away and I can hardly wait.