2010 Baja 500 chase report
March 11, 2016
---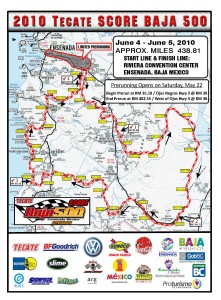 2010 Baja 500 by Mike Stewart.
Its 3:00 AM, the quarter moon is peeking over the eastern horizon, Orion is beginning to dip below the western hills. Then why am I awake? Am I cold? No. Gotta pee? No. Sleepy? Yes. Perhaps it's the oompah music blasting from the adjacent camp and the women screaming in accompaniment with the accordion and snare drum? Yep, that's it. Over and over, every third song, boomp, boomp, boomp, boomp, boomp! "Screeech" Rat-a-tat-tat! Boomp, boomp!
Next to me, my wife Kathy was also awake, laughing at the cacophony. Eric was next to her also laughing, for two reasons, the music and (no laughing matter) his flat air mattress. But what are you going to do at 3 AM? The air mattress was a loaner from Curt (such a gift). So we tried to go back to sleep. A few minutes later- Boomp-boomp-boomp, and we'd start laughing again. A few feet away, we could hear Scott and Sheila laughing, then Ryan, Rob and Darrell too. Curt appeared to be sleeping through it all. And as the sky in the east lightened with the approach of the morning, that's how we began race day at the 2010 Baja 500.
Who can complain, really? Life is always fun, or at least interesting in Baja. With the rising of the sun, our noisy neighbors went to sleep (or maybe passed out), but their children awoke and began exploring the countryside near and around our camp. It was time to get up. Ugh!
The aforementioned group was the Chase-X team (still is, actually) and we were at Race Mile 46 of the race. We had driven from Ensenada on Friday after visiting tech and contingency and obtaining necessary souvenirs, enjoying a few cervezas and watching the crowd. While at tech, we looked for and found the Trophy Truck #46, to be driven by John Koltura of Catrac and Dave Gasper. They haven't had much luck with this machine and we didn't give them much of a chance to complete the race. We had planned to go to Tres Hermanos at Race Mile 50 but once there, there is no way out until after the race is over. It is nice for camping, but the viewing is limited. On the map, at Race Mile 42 a promising spot was located, and in addition, an access road to RM 390. Perfect. We weren't officially pitting for them, but we offered to take a tire with us to our viewing locations, just in case they needed help. Whether we're pitting or not, we always take a supply of pit paraphernalia. We helped push the truck through tech, and then said our good-byes. We told Crew Chief Art, that we'd swing by Horsepower Ranch later and pick up the spare. But first, it was time to go to Empenada's Julia's for lunch.
After empanadas it was time to head for the hills, but first, one last stop for more ice. We found an Oxxo store on the road leading out of town and pulled in. After all of us bought additional ice and beer we started out of the drive way. Kathy informed me that our truck could not make it through the narrow driveway, between the light pole and the adjacent building, because the truck was too wide. "Nonsense", I replied. "You'll never make it", called Curt over the radio "Pshaw", was my response. I calculated, adjusted my steering and proceeded. There was a "BONG", the street light was shaking, but I didn't feel anything, "weird". Alas, poor Curt, while watching me negotiate the passage, ran straight into the light post, denting his front bumper and realigning his off-road lights, he'll be able to see the stars with them now.
We then worked our way up to Ojos Negros, turned off of the highway on to the dirt road leading to Tres Hermanos, about a 20 mile drive. Halfway there, at a cattle guard, stood a group of people selling soda, tacos and burritos, and requiring a $4 "toll" in order to proceed. Oh, well, it appears to be a sign of the times.
Race Mile 46 was a great spot, after winding through some hills, the road straightened out toward an arroyo that was 20-feet deep with a small stream in the bottom. The racers had the choice of going around the graded road or straight over the bank, through the stream and back to the road. Over the top was the preferred route by most cars. This location also had a road that would take us to RM 390, only a mile away.
There were already several locals camped in the area, but we were able to claim a good spot right on the crest of the arroyo. Mattresses were inflated (we're getting soft in our old age), pee-pee tent erected, fire pit ignited and dinner prepared. Curt provided the first evening's fare, consisting of pre-cooked tin-foil dinners including shrimp, beef, pork and Salvadoran chorizo. These were turned into burritos with the appropriate condiments, cold cervezas were consumed, and the stars came out as only they can in Baja. All was right with the world. Then 3 AM arrived. Ugh!
The first bikes arrived shortly before 7 AM and sailed straight across the creek, barely slowing down to go off of the steep embankment. As usual, we were parked on the dusty side of the track, but it wasn't too bad. At least not compared to what we would get later. The oom-paugh-paugh group had moved to the bottom of the arroyo and was allowing us to hear (and anyone within a 10-mile range) a Spanish language commentary of the start of the race. During the bike racing, Kathy and I prepared breakfast for the group, Jimmy Dean sausage and potatoes, scrambled eggs and freshly made pineapple upside-down cake. We enjoyed our meal and waited for the main event. Over the Weatherman channel, we heard that there was a 5-mile back up of chasers, spectators and pit support people waiting their turn to go through the military check-point at Ojos Negros. It makes us happy that we leave the night before to get to our location. From what we could hear, the back-up lasted for several hours.
The trophy-trucks arrived just before 11. Most of them went straight. The large group of spectators at the edge of the arroyo tried to wave all of the racers through, but their shouting, whistling and wild gesticulations managed only to confuse some and slow down others. The #46 car of John Koltura came through well after the leaders, they took the long way around, and we wished them well. One surprising note was that a Class 12 car was ahead of the class 10's and 8's as it turned out, he came in 13th overall. A very good showing for a Volkswagen powered buggy.
We hung out at this spot until the class 11's came through. Eric and Ryan beat Mike and Scott at horseshoes and for the rest of the afternoon, Scott and I were required to do their bidding. While we were playing shoes, we noticed that many of the local spectators packed up and headed for RM 390, about a mile to the west. We decided that we should do likewise and packed our gear.
A member of Mag 7 told us that RM 390 did not have good camp locations and allowed that we could share his location if need be. We left our site and drove to site 2 at around 3 PM, arriving just in time to see the lead motorcycle pass by. Unable to locate a suitable site, we pulled in behind Mag 7 and some of us walked further along the track to see if there were any more likely spots. We saw lots of flowers but no camping locations. We worked our way backwards on the course and determined that at the location that the access road had joined the race course, at a 90-degree turn, there was a good site on the inside of the turn with room for all of our trucks.
Calling on the radio to the members of our group who had not chosen to go for a walk and had remained with the trucks, we recommended that they proceed backwards on the course to the new site. We were able to hear any motorcycles coming and give warning of their approach so the trucks could get off the road. Camp number 2 was thereby established. The bikes made a little dust, but it wasn't too bad.
Along came the Trophy-trucks- as they made the hard left turn they began chewing up the surface of the road and we found ourselves at the edge of a small silt bed. The dust was blinding, everything was turning a light tan color. Some of us walked further up course to a small water crossing and watched the racers splash through.
Quad racer 57a stopped at our camp. A young Mexican, riding in the Sportsman Quad-runner class, he was hungry, thirsty and tired. We gave him food and drink and let him rest a bit, then sent him on his way. We never did find out how he did in the race. At one point someone thought they heard on Weatherman about an incident with #57a, but it was never confirmed.
Sheila made beef and bean burritos for dinner. Each serving had to be made between race cars to keep the dust off of the condiments. Regardless of the choking dust, the meal was excellent. After dark, we went to bed, leaving the radio on the Catrak channel in case out team came through. Sure enough, at 2 AM we heard them on the radio; they had had a flat and needed the spare. Before we could talk them in, they passed us and had to come back to us. Dave Gasper was driving now, somewhere before our spot, he had rolled off a switchback, rolling over 3 times before coming to rest, wheels down, on the racecourse below. He was shaken but determined to continue on. We replaced the spare tire, gave them water and wished them well. Off they went into the darkness, becoming the final Trophy-truck finisher. Well done.
In the morning there were still stragglers coming through, including #1449, an all girl Sportsman buggy. They stalled on our corner and could not restart. We pushed them out of the way and tried to get the engine running. Eric pulled and cleaned the air filter, but still no luck. Finally we push started it, it caught but died. Then we pushed it in reverse, uphill. It fired and stayed running; they backed onto the course and went their way.
Today was June 6, D-day and Rob prepared breakfast in style. An American flag was hung behind the 'kitchen' area and he set up "omelets in a baggie", replete with ham, bacon, shrimp, onions, peppers and cheese. Just dump your ingredients into a baggie along with about 2 eggs, drop in boiling water, wait 10 minutes or so and, viola, an omelet. No muss, no fuss.
As we watched the pit teams heading out past us, we realized that this trip was just about over, so we began packing. Leaving the radio on all night had killed my battery-again, and we had to jump start it. Everything was loaded and we left, splashing through the stream, peanuts at the ready we had a fun trip back to the pavement.
Through Ensenada we negotiated a different route, bypassing the finish line crowds and headed north. From Race-Dezert I had heard of a different route to the Otay Mesa border crossing and we gave it a try. Exiting Highway 1 at Puerto Nuevo and following the old road, we turned east at Fox Studios on a 4 lane freeway for 45 minutes up to Highway 2, turned west for 2 miles and we were there at the border crossing. It took us just over one hour to cross (always stay extreme left at Otay). My guard was a jerk, we got sent to secondary and had our ice-chests inspected. He also wanted to see what was in the carrier on top of the truck; I showed him a sleeping bag which he squeezed, causing a large chuff of dust to come out. Ron and company got to visit secondary too, but our token foreigner, Curt, sailed through without issue.
We all met at McDonalds and got food, gassed the trucks and left. Curt and Rob had to drop off Darrell, so we separated. The trip was over. Only four months until the 1000, I can hardly wait, and, oh yeah, I'll tell you about the Boob House in that report, when I have pictures.
Baja at its best. We're ready to return.